Looking Forward to the Future by Honoring the Past — Donor Roland Hsu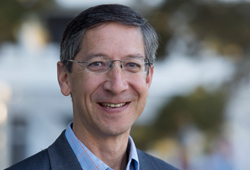 "San Francisco State University is an indispensable institution in the world" says Roland Hsu, PhD. Roland's gift from his living trust, inspired by his father, Kai-yu Hsu, will serve new generations of students. "The legacy of my father honors the past while looking forward to help the University respond to the needs of students, faculty, and the community."
Roland's memories of his father, who founded the Chinese program at SF State and who was also an accomplished artist, motivates him to encourage others to respond to the University's giving campaign. "This is my way to show my love for my dad and for the university to which he dedicated his career. Beginning in 1959, when not many institutions were interested in supporting a Chinese Program, SF State was fertile ground for my dad to grow the program, nurture student interest, and recruit talented faculty. That is a part of his legacy and I'm very proud of him. It's important to step up to support that spirit of passion, innovation, and commitment to excellence."
Roland's bequest will support the Chinese Program and the College of Liberal & Creative Arts.